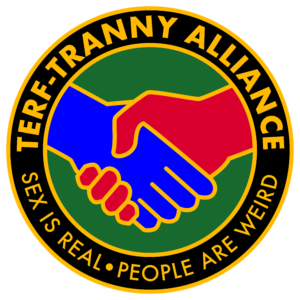 It's just an emblem, a pin, and a dream. But it's ours, and we intend to run it into the ground like any other movement, with a series of schisms, betrayals, false accusations, personality conflicts, poor communication, co-optation by more powerful "allies", selling out, and ultimate abandonment of our ideals.
Lapel Pins!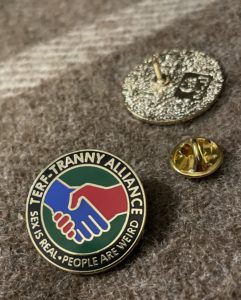 USA ONLY
Behold the beautiful shiny TERF-Tranny Alliance lapel pin! Yours for a $10 donation, which includes shipping and tax.
But ONLY if you're in the USA.
If you're in the UK, go here.
OUR PLATFORM:
Sex is immutable (in mammals, inc. humans)
Clothes and personalities are not
Men can wear dresses
Women can be 'masculine'
Go on with your weird self
Transwomen are men
Keep men out of women's spaces and resources
Transmen are our sisters
"Lighten up, trannies, this used to be fun." —Miranda Fucking Yardley
"Yup, transwomen are men – and some of them are my friends." —Nina Paley